FREQUENTLY ASKED QUESTIONS
How many bottles should I order?
The most popular choice is the 3 and 6 bottle options.
The 3 bottle option is recommended for men looking to gain a solid 10 pounds of lean muscle or more and wanting to experience all the powerful benefits easily attainable when your natural testosterone levels are maximized. This option is often a great place to start because you can experience all of the benefits The Muscle Maximizer can offer while ensuring you have ample supply on hand without the need to reorder often.
However, for those wanting to gain the most lean muscle possible over the course of multiple months -- The 6 bottle option is wildly popular and highly recommended. Remember, you can always return what you don't use if you achieve results faster than anticipated and either of these discounted packages offered today will allow you to take advantage of our lowest possible prices.
What's the best way to take The Muscle Maximizer?
Simply take 2 capsules twice per day.
How long does 1 bottle of The Muscle Maximizer last?
Each bottle contains a full 30-day supply. This is why our most discerning customers and those most serious about experiencing noticeable, long term results choose the 3 or 6 bottle option.
Why is The Muscle Maximizer such a unique, safe and effective testosterone supporting solution for MEN?
Unlike the vast majority of mainstream testosterone supplements which have no human clinical data whatsoever, The Muscle Maximizer uses patented protected and science backed ingredients which have been clinically tested on men and proven safe and effective under the most rigorous and strictest standards. Furthermore, every single bottle is made in one of the only facilities fully certified by the US government before an independent third party lab is required to provide a final certificate of analysis confirming the accuracy, safety and potency of each bottle. We take all of these additional and costly steps which far exceed industry standards because to us having your trust along with an international, industry leading customer satisfaction rate is and always will be our top priority.
What ingredients are in The Muscle Maximizer Supplement?
Click here to see The Muscle Maximizer label and ingredients.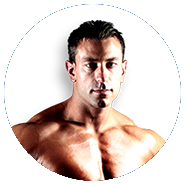 Who is Kyle Leon?
Along with being a nutrition specialist, former personal trainer, professional athlete and fitness model, Kyle is a 2 time international best selling fitness author and creator of multiple best selling fitness systems. For years Kyle has served on the fitness advisory board for America's leading online supplement company BioTrust Nutrition. In addition, Kyle he has also accepted various consulting and spokesperson roles for cutting edge and renowned sports supplement companies such as Blue Star Nutraceuticals. Over the years Kyle has specialized in helping many hundreds of thousands of men customize their nutrition and training to experience both lean muscle growth and body fat reduction through his unique, best selling fitness systems. Kyle's strategic approach to customizing nutrition based on individual characteristics such as gender, age, weight, height, metabolism and body type is what separates his systems from others in the market place and is the basis of what makes his fitness solutions unique and effective.
How long before I should expect results?
We expect you to feel results within the first 7 days and to see noticeable results within 30 days and more profound results with prolonged, continued use. The most profound results tend to be realized the longer your body's natural levels of testosterone are maximized.
How long do I need to take The Muscle Maximizer?
Generally speaking we recommend that you continue to take The Muscle Maximizer for as long as you wish to see and feel the results that it provides you. Taking The Muscle Maximizer consistently alongside a strategic diet and resistance program can produce the most dramatic and desirable results. However, once you've reached your ideal physique goals taking The Muscle Maximizer may no longer be necessary. It's also important to note there is no need to cycle on or off The Muscle Maximizer because there are no rebounds, crashes, or side-effects.
If I'm under 30, is it worth taking The Muscle Maximizer?
Yes. Maybe even more so now in this day and age. Testosterone levels are rapidly plummeting for men under 30 to embarrassing and feminizing levels. For those born after 1986, the low testosterone levels are being called an epidemic. The Muscle Maximizer can safely and naturally be used by men under 30 to boost testosterone levels and enjoy improved libido.
Is The Muscle Maximizer dangerous, or a drug?
No. The Muscle Maximizer is formulated with 100% safe and natural ingredients clinically proven to increase a man's natural production of testosterone. It is not an illegal pro-hormone or steroid of any kind.
What if I have a medical condition?
It's always recommended to consult a medical professional before beginning any supplement, diet or exercise program.
How will this product be shipped to me and how quickly?
We will ship your order directly to your home or office usually within 24 hours upon ordering. North American customers can expect their orders within 3-7 business days.
How long will this offer be available?
This is the lowest price we've ever offered The Muscle Maximizer and we cannot guarantee how long this price and special bonuses offered will be available. Because of this, our best advice is to take advantage of today's offer now while you can. With the ever increasing cost of advertising and production, the chances of you missing out on this limited time offer go up if you delay taking action today.
What support resources do you offer clients of The Muscle Maximizer?
We consider customer service extremely important and we take great pride in this aspect of our business. This is why once you become a Muscle Maximizer customer you'll receive 24/7 customer support via our email help desk support@themusclemaximizer.com and you may call our friendly customer support staff or fitness coaches toll-free during our business hours at (844) 694-8446.
What if this product doesn't work for me?
If for any reason you are unsatisfied with your purchase, just let us know and we will issue you a prompt and courteous refund even on empty bottles. You are always protected by our iron clad 60-Day 100% Money Back Guarantee.
Who is the retailer of The Muscle Maximizer?
Clickbank is the exclusive retailer of The Muscle Maximizer. Clickbank is an internet top 100 retailer and proud global leader in digital e-commerce. With many billions of dollars in sales and through the worldwide reach of industry leading products like The Muscle Maximizer, Clickbank has been able to help improve the lives of millions of customers in hundreds of countries across the globe.
With great reach comes great responsibility, which is why Clickbank is entirely committed to only retailing the absolute cream of the crop when it comes sports supplements. Rarely is a product in this industry ever able to meet Clickbank's unwaveringly strict quality control standards and pass the rigorous third party testing and validation processes we require. These measures, and many more, are taken to ensure we deliver our valued customers virtually unparalleled safety, potency and quality control that is rarely ever seen in this industry.

Choose Your Package